Hollywood's treatment of 'Minari' says a lot about the Asian American dream. By Dylan Lee.
Writer and director Lee Isaac Chung presented his pursuit of the American dream in his semi-autobiographical film "Minari." The film follows his parents' own journey as Korean immigrants who move to a farm in Arkansas in the 1980s with dreams of growing a large farm filled with Korean vegetables. Their story like many others, is one that is the backbone of America. It begins with a quiet and empathic look at an Asian immigrant family and their struggles in building their life on a rural farmland in the South. The movie does a beautiful job in how it displays the theme of "The American Dream" amidst the instability and challenges that comes along with being different. "Minari" is an intimate portrait of family dynamics and a film that displays how hard it was, and still is, for non-white people to assimilate into America.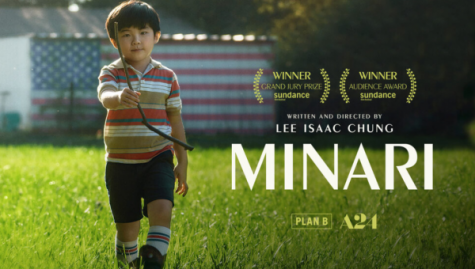 The Golden Globes announced that "Minari" would be unable to compete in the Best Picture category. Instead, it would compete as a foreign-language film. Undoubtedly, this decision sparked much controversy and confusion. However, in an interview with Vanity Fair, it was revealed that Minari had no choice but to contend for the foreign language category due to the Hollywood Foreign Press Association (HFPA) and Golden Globe rules: "Any film with at least 50% of non-English dialogue goes into the foreign language category." With films listed under this award, they were also barred from being considered for other nominations.
What could be more 'American' than a film produced in the United States? Not to mention a personal narrative written and directed by an American filmmaker. The issue here is not the nomination itself, but rather the implication behind the categorization. It points a finger at the idea of 'being different' and reminds people of color, specifically Asians and immigrants in this case, that they are the 'outsiders.' An example of this, many Asian Americans, face the perpetual foreigner stereotype and are frequently field questions of "where are you really from?"
It's strange how America got to this point of English exclusivity since America in itself is built upon immigration from other countries, and according to the Census Bureau, a new immigrant moves to the United States every 33 seconds. America is one of the most culturally diverse countries in the world, with American culture itself being a melting pot of hundreds of unique cultures, including those of Native Americans, Latin Americans, Africans, and Asians.
In such a diverse society as America is, the benefits of sharing culture are significant, Most of all, sharing cultures promotes an understanding that can decrease xenophobia and racism.
To say American culture is characterized by English-speaking and whiteness would be a lie. American culture is founded upon and enriched by immigrants and their own pursuits of the American dream. As exemplified in "Minari" by Chung, an American born of Korean-American parents, the word "American" does not fit one definition and one's experience should not be invalidated as American simply because it doesn't fit the status-quo.